Ancillary Action Continues at 6666 NRHA Derby presented by Markel
The competition was fierce, and the scores were high in Adequan® Arena, the final Saturday of the 6666 National Reining Horse Association Derby presented by Markel. The high point titles were awarded in the Toyon Ranch Rookie classes, and the first slate of youth and short stirrup classes capped off the day.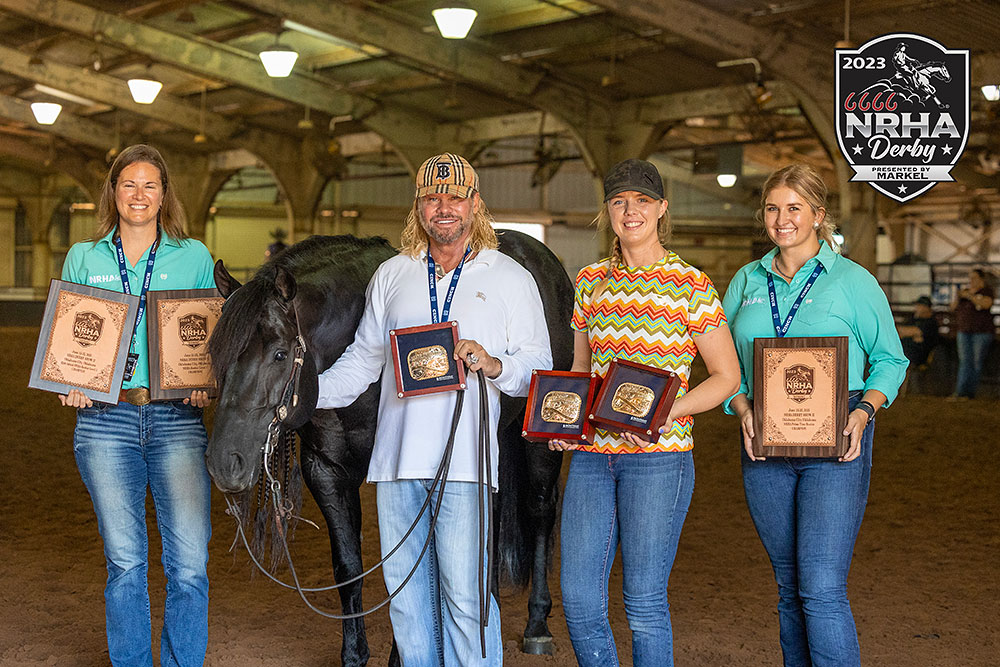 Marking a 143, Kent Ray Taylor made a clean sweep of the Toyon Ranch Rookie classes in the Adequan® Arena today, winning the second slate of the Level 1, Level 2, and Prime Time ancillary classes. He also won the High Point title for all three Levels with Xtra Wimpys Catalyst.
"Zorro," as the handsome black stallion is affectionately known, is sired by NRHA Twelve Million Dollar Sire Wimpys Little Step and out of Im Not Blonde. Bred by Milholland Training Inc., the stallion has more than $61,000 in lifetime earnings.
Taylor has a background in the all around events, having shown AQHA with much success as a youth. After a 30-year hiatus, he returned to the show pen six years ago, earning countless titles at prestigious events like the AQHA World Show, All American Quarter Horse Congress, and NSBA World Show, under the guidance of Blake Weis.
When it comes to Taylor and Xtra Wimpys Catalyst, it was love at first sight. "I was at a horse show and hanging out with some friends of mine that showed all around horses, and (Zorro) came into the arena with NRHA Four Million Dollar Rider Craig Schmersal, and I was like, I want to own that horse," Taylor explained. "It took me about a year to get him bought, but they finally sold him, and I've been as happy as I can be."
Taylor was eager to thank his trainer, Mandy Faust, and Craig and Ginger Schmersal for their support. He also thanked NRHA Corporate Partner Toyon Ranch for paying the entry and judges fees for all the ancillary Rookie classes.
Up next for Taylor is the Inside Slide in Arizona and The Run For A Million. He will also be attending the EMO Championships in Las Vegas and the NSBA World Show with his string of all around horses.
Sydney Muehlstaetter won the first slate of the Youth 13 & Under aboard the 2012 mare, Xtra Voodoo Step.
Xtra Voodoo Step, or "Lola," is sired by NRHA Twelve Million Dollar Sire Wimpys Little Step and out of Voodoo Chic. Owned by Frederick Christen and bred by Rogers Heaven Sent Ranch, the mare has lifetime earnings of more than $46,000.
"I just started riding her like five months ago. I showed her the first time at the High Roller," Muehlstaetter said.
Up next for this team will be the second slate of the youth classes on Sunday, followed by Reining By The Bay in July.
Muehlstaetter thanked her parents and her trainer.
Read more:
NRHA News – National Reining Horse Association