Nicole Haunert and My Lady Lavista Reign Victorious in $30,000 June Classic I Grand Prix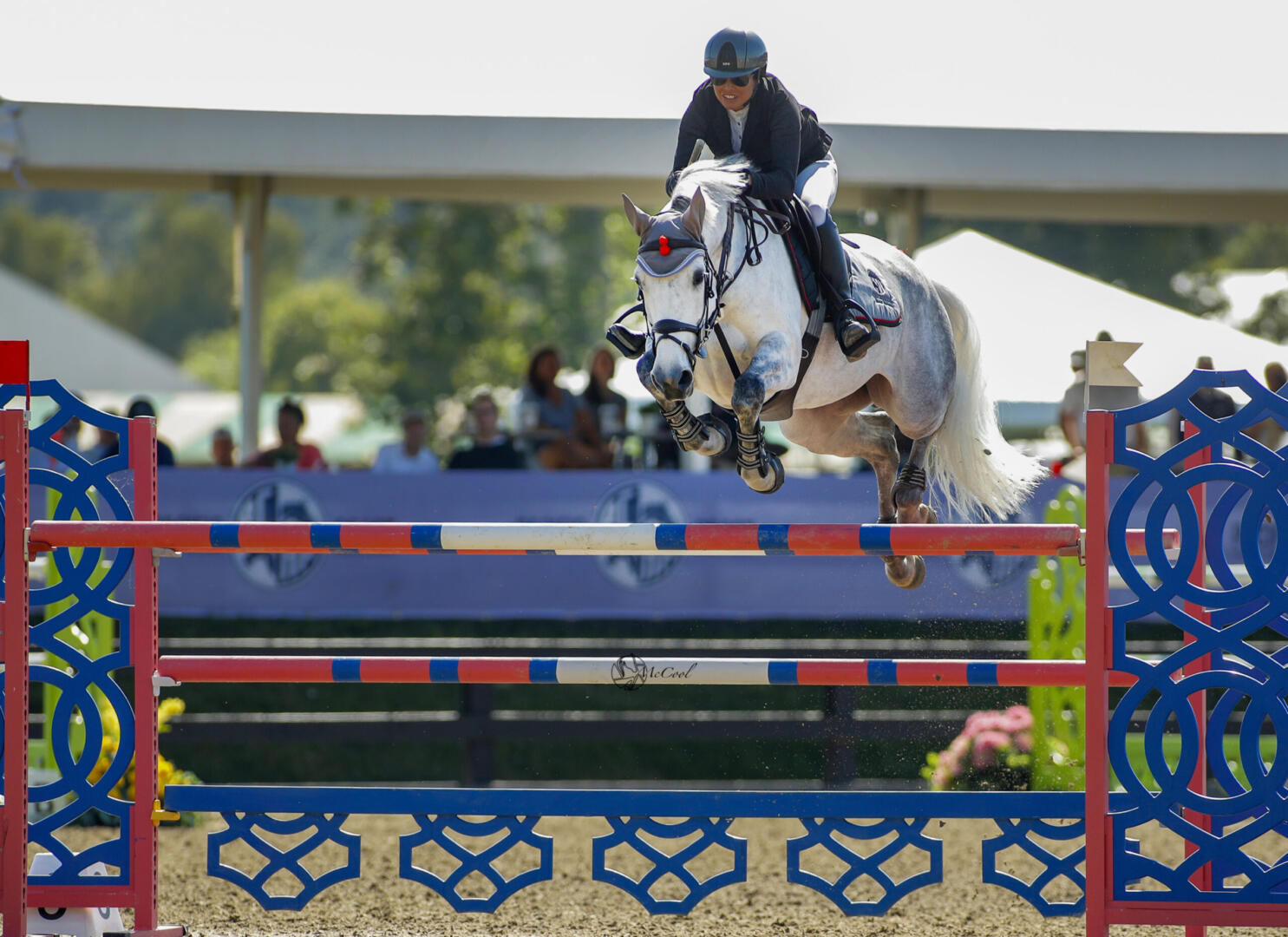 San Juan Capistrano, CA – The last to go was the best to go in Saturday's $30,000 June Classic I Grand Prix, with Nicole Haunert and My Lady Lavista flying over the final vertical to take the win at the Blenheim June Classic I in San Juan Capistrano, CA.
Out of the original starting field, Haunert and My Lady Lavista were one of six to jump the first-round, Oscar Soberon-designed course without fault. Then, as the last to return to the Grand Looke Arena for the jump-off, they stopped the clock in a winning 41.203 seconds. Second place with a double clear time of 42.514 seconds went to Skylar Wireman and Crunch K, owned by MJ Kaplan, and McKenna Norris and her own Nirvana Van T Akkerhof took third with a time of 43.503 seconds.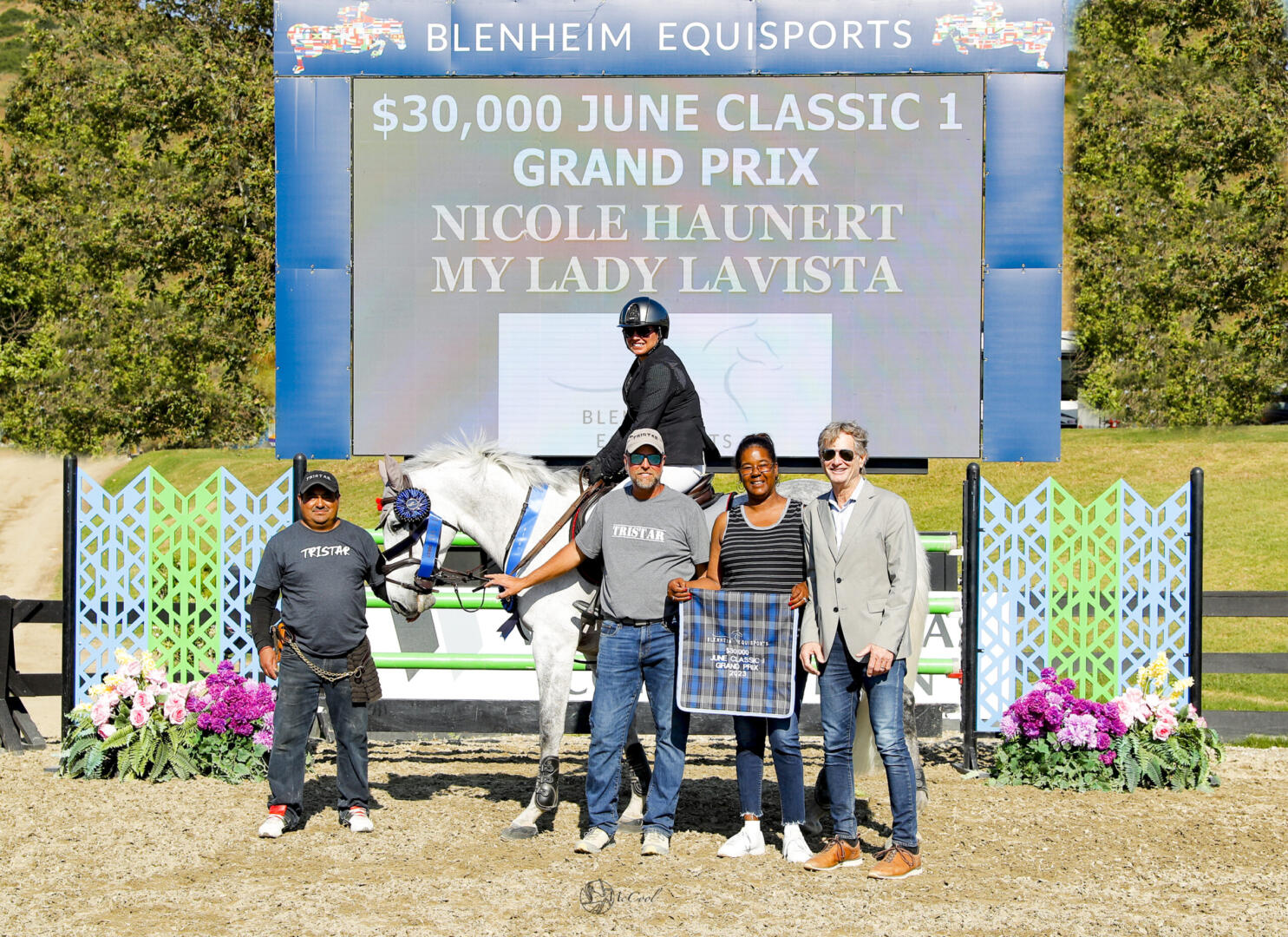 "I'm thrilled!" said Haunert of My Lady Lavista's winning performance. "We are just over the moon about her."
Haunert has been partnered with the 15.3-hand, 9-year-old Holsteiner mare, owned by Jill Hunter-Hensley of Cherokee Show Horses, for the past three years, and Haunert and the team at TriStar Farms have been slowly producing the mare up the ranks since then. Patience has been a key to Lavista's success thus far, and Haunert remained patient in her plan for Saturday's jump-off. 
"She's nowhere near ready to go all out and go crazy," said Haunert. "I definitely wanted to go double clean because there were only two other double cleans, but I didn't want to push it. [My Lady Lavista] is so naturally fast, and she gets very mad if you go slow – very mad! I've tried. It's a bad idea with her, but she's nowhere near as seasoned as the rest of the class."
Haunert continued, "She's wicked careful. We have a huge year ahead of us, so I thought, 'Let's just go double clean.' When she's confident, she's everything. If I was second or third and double clean and she stayed as confident as she did, it's a win for me because this is just the beginning for us! I'm still a tad nervous to go too fast on Lavista, because right now, I think there's nothing that she can't do; for that mare, I think it needs to always stay that way."
For Saturday's win, Haunert received a Blenheim EquiSports picture frame and coolerette and a gift certificate from Riderzon. She also kicked off the PRO Series Equine Leading National Grand Prix Rider Award standings atop the leaderboard. Following the conclusion of the Blenheim International Jumping Festival in September, the rider with the most points accumulated in national grand prix competition will be awarded a PRO Series Equine sponsorship. To learn more, click here.
To view full results of the $30,000 June Classic I Grand Prix, click here.
Competition at the Blenheim June Classic I continues through Sunday, June 18, with the conclusion of the Zone 10 Selection Trials for the North American Youth Championships (NAYC).