Vazquez, Morgenstern, Schumacher, and Kapu Win Early Titles at 6666 NRHA Derby presented by Markel
Three days of action-packed competition drew to a close Wednesday at the 6666 National Reining Horse Association Derby presented by Markel. Not only were the Finalists for the Non Pro Derby determined, the champions of the Colston Paving Inc. Non Pro Stakes, the Story Book Stables Amateur, the Clark's Pump-N-Shop Novice Horse Non Pro Derby, and the American Paint Horse Association Chrome Cash Incentive were crowned.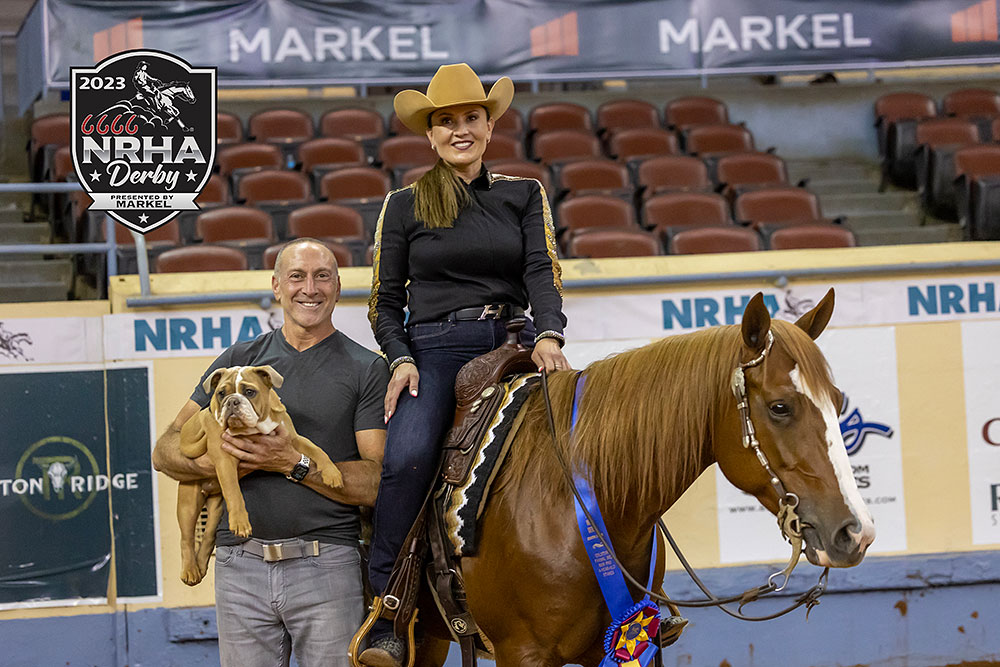 Molly Morgenstern and Aphrodites Gotvoodoo were Co-Champions in the Colston Paving Inc. Non-Pro Stakes with a 218.5, earning a check for $10,641.
"I kind of just wanted to press around and see what I had waiting for me," Morgenstern explained. "Every place in the pen that I checked on her, she was right there and asking me what was next."
Aphrodites Gotvoodoo, or "Marie," as she's known around the barn, was bred and nominated by Double Run Farm. The mare is by NRHA Three Million Dollar Sire Shiners Voodoo Dr and out of One Mighty Aphrodite.
"She has just been a little dynamo," Morgenstern explained. "She's very small but has come in with a bigger heart than any other horse that I've ever had the chance to show."
Morgenstern was very excited to be part of this 4-year-old stakes event. "With a four-year-old, you think you kind of know what you're bringing into the show, but they're certainly not as mature and as dependable as your older guys," she said.
Morgenstern and Marie are headed into the Non Pro Finals on Friday, June 23. Morgenstern thanked Peter DeFreitas for matching her up with Marie, her friends and family for their support, and Colston Paving for sponsoring the Non Pro Stakes.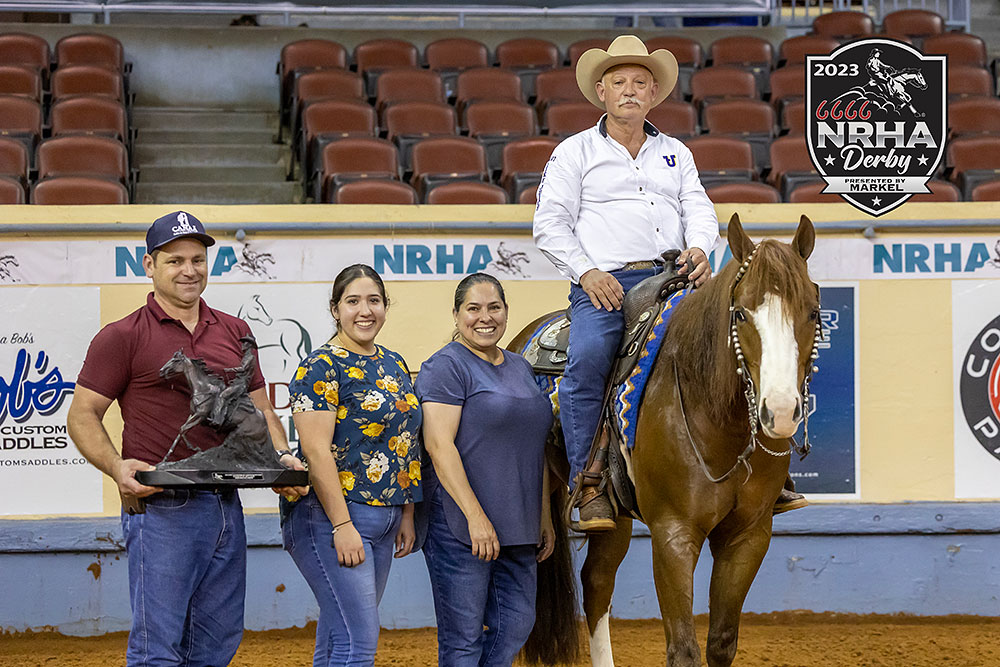 When NRHA Seven Million Dollar Rider Shawn Flarida suggested Jose Vazquez buy a 4-year-old reiner named Snow Guns Last Dream, Vazquez didn't hesitate.
That's because the two NRHA Hall of Famers have teamed up successfully many times before.
"Shawn trained this horse and has trained a bunch for me in the past, including ones I won with at NRBC and here," Vazquez shared. "He knows what I ride and what I need."
It appears Flarida was correct, as Vazquez, an NRHA Million Dollar Rider, and Snow Guns Last Dream teamed up to mark a 218.5 in the Non Pro preliminary round of the Derby. That high score not only guaranteed them a spot in the Finals, where the Level 4 Champion will win a guaranteed $50,000, but it also secured the Colston Paving Inc. Non Pro Stakes Co-Championship, worth an impressive $10,641.
"I'm excited and happy right now," Vazquez said. "Thank you to the Colstons. What they have done by sponsoring this class is unbelievable, and I hope it continues. Without sponsors like them, the shows wouldn't be what they are now."
Snow Guns Last Dream is by NRHA Nine Million Dollar Sire Magnum Chic Dream and out of Snow Gun. The 4-year-old gelding was bred by NRHA Million Dollar Owner Andre De Bellefeuille and nominated by Equine Plus.
Flarida trained and showed the flashy gelding, and Vazquez purchased the colt just before the NRBC. For those knowledgeable in the reining industry, it's a bit of a shock seeing Vazquez compete on a horse that's unrelated to his NRHA Four Million Dollar Smart Like Juice.
"You can count on one hand the horses I've ridden that aren't related to Juice, but when Shawn talked to me about this horse, there was no way I could pass up the opportunity," he explained.
Vazquez, who has been in the reining industry for more than 25 years, added, "I have a lot of good people who pick me up, and many who have been with me a long time. Winning is a team effort. Without the team and your family, this is not possible."
Read more:
NRHA News – National Reining Horse Association