Non Pros Are Finals Bound at the 6666 NRHA Derby presented by Markel
The wait is over, and the Non Pro finalists for the 2023 edition of the 6666 National Reining Horse Association Derby presented by Markel have been decided. Over three days, the field of 306 Non Pro entries was whittled down to the crème de le crème who get to compete in Friday's clean slate finals.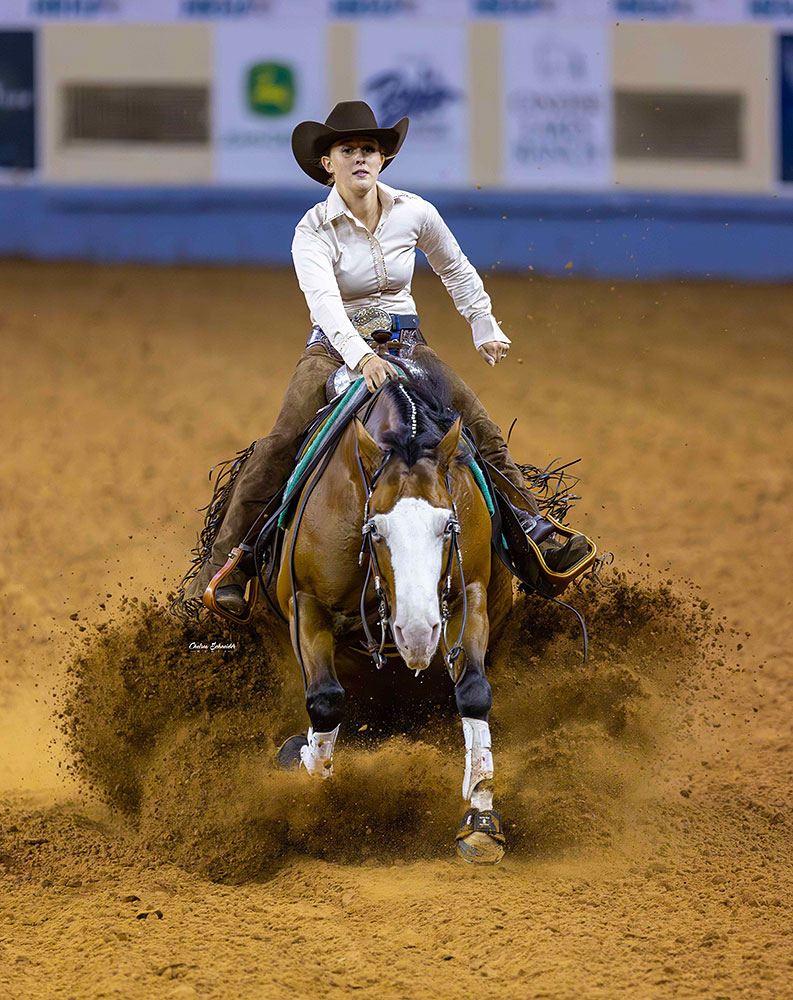 To put it mildly, the preliminary round was the Gina Schumacher Show. The NRHA Million Dollar Rider not only qualified all three of her entries back to the Level 4 Non Pro Finals, but she also finished in the top three spots of the preliminary round.
Schumacher topped the round on CS Sailing Gun (Gunners Enterprise x La Bigia Sailor), nominated by CS Ranch Management, and took second on Legendary Whizkey (Whizkey N Diamonds x Legends Lil Squeeze), nominated by Steven Simon. Schumacher rounded out the top three with Gunin Addy Tude (Gunnatrashya x Miss Lil Addy Tude), nominated by Toyon Ranch.
Still, she didn't stop there, also topping the Clark's Pump-N-Shop Novice Horse Non Pro Derby on CS Nifty Sailor (Gotta Nifty Gun x La Bigia Sailor), nominated by CS Ranch Management. The pair also finished in the Top 5 of the Colston Paving Inc. Non Pro Stakes.
Schumacher will compete again on Friday in the clean-slate Finals with the rest of the top 30 from the Non Pro Level 4. Also earning a spot in the Finals will be the top 30 in Non Pro Levels 3-1, the top 20 in the Prime Time Non Pro and Youth Non Pro, and the top 15 in the Masters Non Pro.
For the first time ever, the Level 4 Non Pro Champion will be presented with a check for $50,000 – up from $30,000 in 2022. The other division payouts are as follows:
Level 3 – $20,000
Level 2 – $15,000
Level 1 – $5,000
Prime Time – $5,000
Masters – $2,000
Youth – $2,000
According to NRHA Chief Financial Officer John Foy, the purses for Non Pro Derby Levels 1-4 are, as with the Open, record-breakers for the second year in a row. "It's back-to-back years of record-breaking purses for those levels, which is cool to see," he shared. "The other nugget that is great to see is that the combined total added money for both the Open and Non Pro Levels 1-4 exceeded $700,000 for the first time. This year the added money is $720,844, up from $679108 in 2022."
Read more:
NRHA News – National Reining Horse Association