The horse show action continued in the Adequan® Arena at the National Reining Horse Association Derby presented by Markel. There were 64 entries in the Novice Horse Non Pro classes spread across three levels. In the end, Alicia Rapp and Brogan Hill took home the wins.
Alicia Rapp and CS Just Viintage, a 2019 mare, won the first slate of the Level 1 and Level 2 Novice Horse Non Pro at the 6666 Ranch NRHA Derby presented by Markel.
CS Just Viintage, or "Missy" as she's known around the barn, was bred by XCS Ranch and is by Platinum Vintage and out of Snow Town. Rapp and Missy are a relatively new team- the mare joined Rapp's family shortly before the 2022 NRHA Futurity.
"She has, so far, been the funnest show horse I have," Rapp explained. "She really is happy about her job. She goes around with her ears forward and is very princess-like."
Up next for Rapp and Missy is the second slate of the Novice Horse Non Pro, followed by the All Star Reining Stakes at WEC Ocala in July.
Brogan Hill and Quik Draw McGraw, a 2016 gelding, won the Novice Horse Non Pro Level 3 (1) with a score of 143.5.
Quik Draw McGraw is by HF Mobster and out of Nestle Quik Chic and has over $35,000 in lifetime earnings. Hill has been riding him for several years, earning accolades in the NRHA and a spot on the Fresno University Equestrian Team.
"This horse is just my best friend," Hill said affectionately.
Hill thanked her parents for making wins like this possible and NRHA Three Million Dollar Rider Casey Deary for matching her with this horse.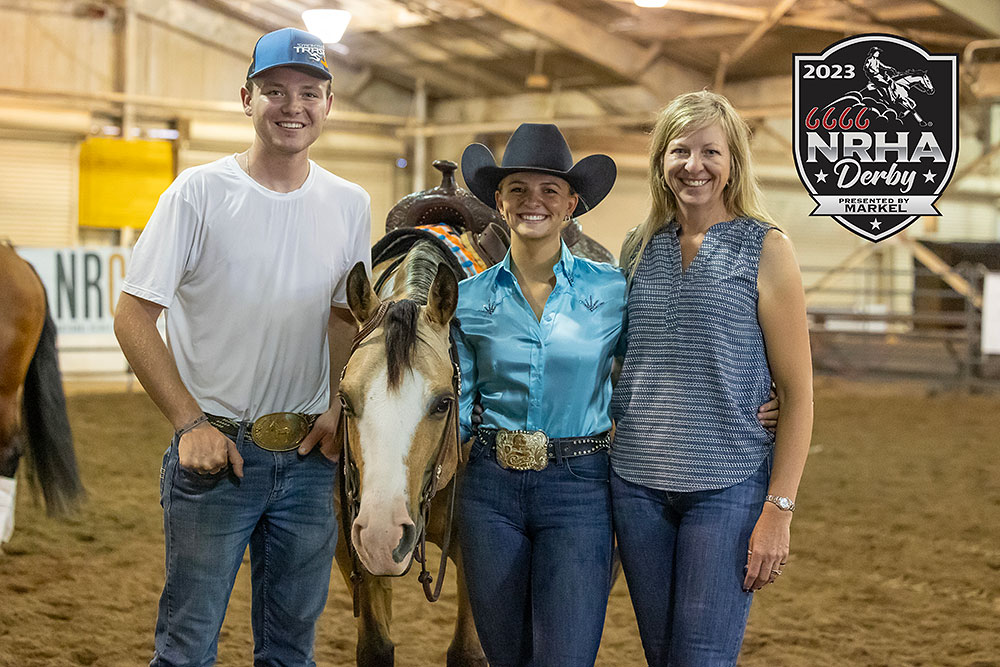 Ancillary action continues Wednesday with the first slate of the NRHA Novice Horse Open classes. A complete schedule, results, link to the live webcast, and more can be found at NRHADerby.com.