Schumacher Pilots CS Sailing Gun to Win Non Pro Championship at 6666 NRHA Derby presented by Markel
After the storms of the day, it was a cool Friday evening, but the competition quickly heated things up at the 6666 National Reining Horse Association Derby Derby presented by Markel in the Jim Norrick Arena for the Non Pro Derby Finals.
In an astounding show of talent from both horse and rider, Gina-Maria Schumacher won the Level 4 Non Pro Derby with CS Sailing Gun while also placing in the top five with her two other entries, Legendary Whizkey (Whizkey N Diamonds x Legends Lil Squeeze) and Gunin Addy Tude (Gunnatrashya x Miss Lil Addy Tude).
Her smooth run earned a score of 224.5, placing her firmly in the lead by 1.5 points. Her other runs held a tie of third place with a score of 221 and fifth place with a score of 220.5. The Championship came with a big check for $50,000; her other two finishes brought her take for the evening to just under $70,000.
"He was good everywhere," Schumacher, an NRHA Million Dollar Rider, said of CS Sailing Gun with a smile. "I just couldn't have asked for anything more."
CS Sailing Gun is by Gunners Enterprise and out of La Bigia Sailor and was bred and owned by XCS Ranch. He was nominated by CS Ranch, who will be receiving a payout of $2,500.
Schumacher thanked NRHA Two Million Dollar Rider Duane Latimer, her parents, and her whole crew for their help with the accomplishment, although she said it really hadn't sunk in yet.
Winning an event as large as the NRHA Non Pro Derby is a high point for any rider's career, and for Schumacher and CS Sailing Gun, it's ending on a high note. CS Sailing Gun will be carrying a new rider from here on out, which makes this moment beyond bittersweet.
"It's pretty sad, to be honest, because I really love him, but it's a good way to finish," Schumacher says.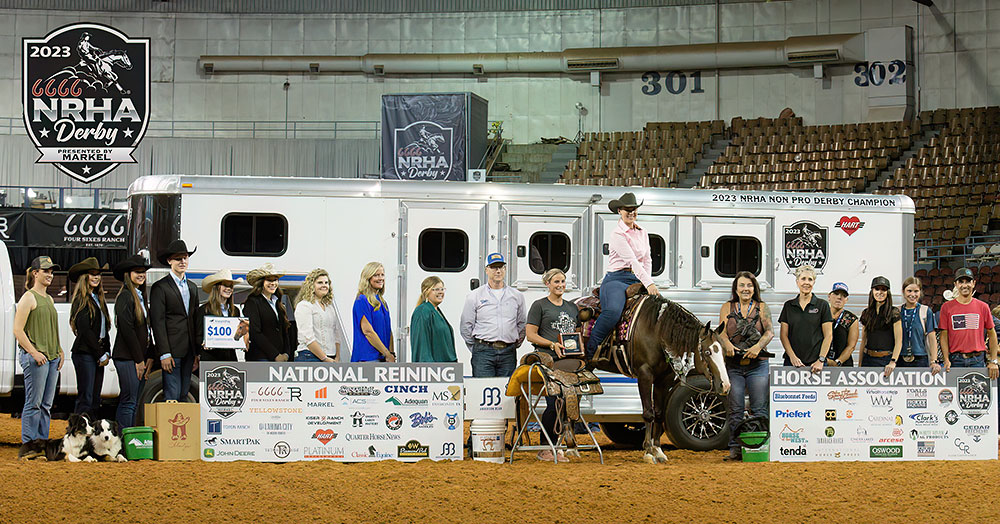 Samantha Kapu and Chics Get The Chex started off the Non Pro finals strong as the first draw, and it paid off, as they were co-champions in the Level 3 with a score of 219. The pair also finished seventh in the Level 4, bringing their total earnings for the night to $20,468.
The 2018 stallion, sired by NRHA Nine Million Dollar Stallion Magnum Chic Dream and out of Big Gold Chex, was bred by Garth Hystad and nominated by NRHA Million Dollar Owner Casey Hinton, who will also receive $1,077.
"I just wanted to go in and beat my last score. I was showing against myself- that was my mentality going in, especially being draw number one," Kapu said. "I just wanted to go in there and make a statement with that first stop."
Between his phenomenal performance tonight, and his win in the Storybook Stables Amateur class during the Non Pro Preliminaries earlier this week, the stallion has earned some time off.
"He's going to get spoiled, and he'll definitely get a couple of weeks off." Kapu shared. "We're going to just trail ride him for a bit."
Kapu thanked her trainer, NRHA Professional Ashley Kelkenberg, her mother, and her husband for their support.
Read more:
NRHA News – National Reining Horse Association