Taylor Zimmerman Wins Invitational Freestyle presented by OKCVB
In the second annual $20,000-added Freestyle Reining presented by Oklahoma City Convention & Visitors Bureau held at the 6666 NRHA Derby presented by Markel, 12 creative and captivating runs were performed by riders of all levels. The exciting evening started on a celebratory note when the Level 4 Non Pro Finalists were introduced, setting the tone of impressive riding and friendly competition.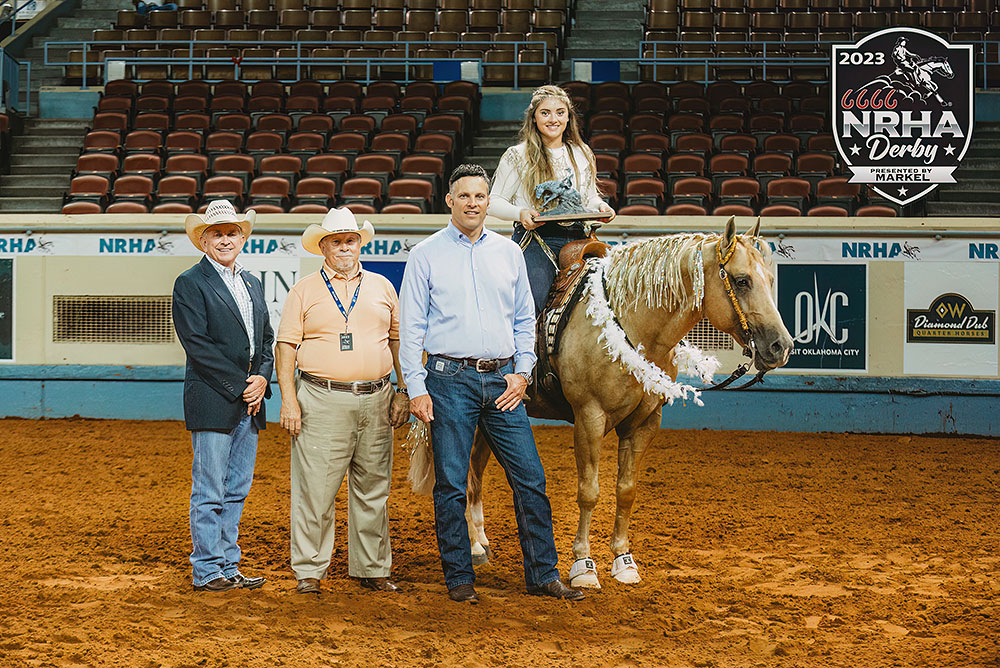 From patriotic tributes to rocking choreography, the Thursday night crowd was entertained. Then, competition heated up.
For Taylor Zimmerman, every hour spent in the saddle with the horse she grew up with, Its All About Ruf, has been golden. As a tribute to their time together, they performed to JVKE's Golden Hour.
Its All About Ruf, who she calls TJ, is a 2016 stallion by NRHA Million Dollar Sire Not Ruf At All and out of Dun Pretty Nifty, with a lifetime earnings of $88,081.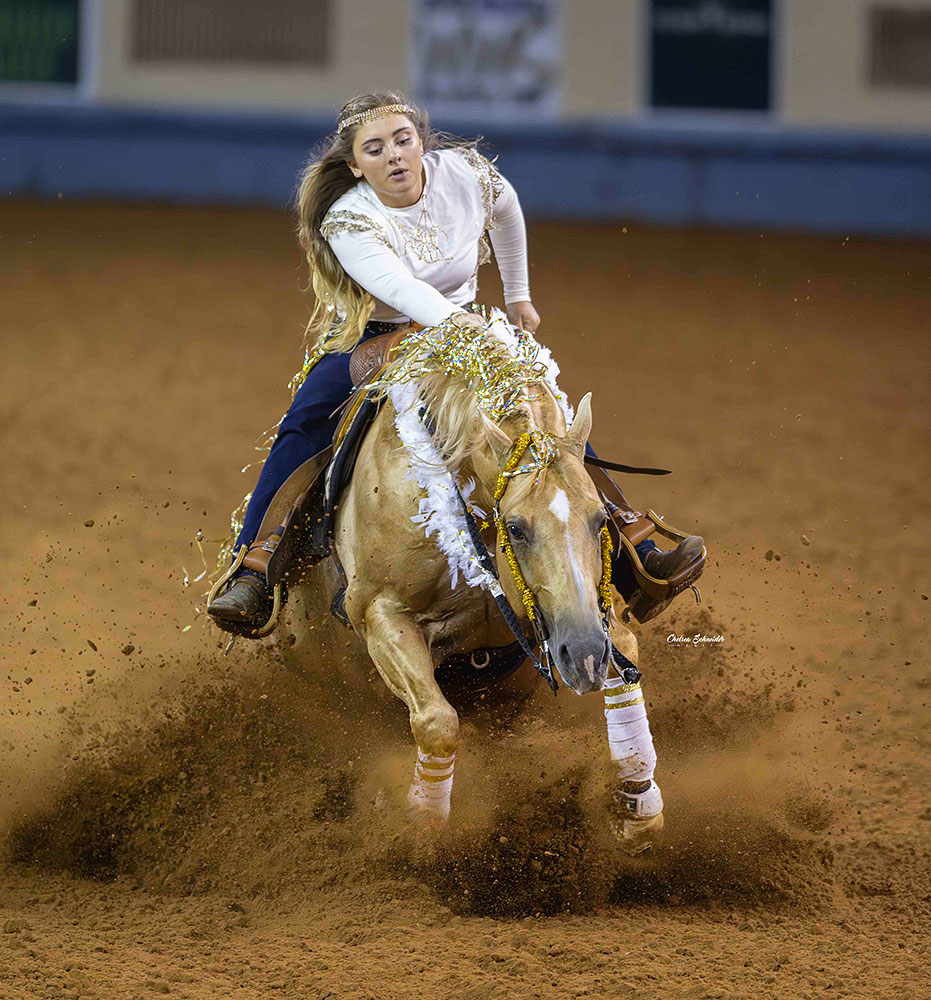 With as much as TJ has already given Zimmerman, he took it to the next level with a ride that earned a score of 230.5 and the Championship of the Invitational Freestyle. This score is currently the highest score marked at the Derby this year.
This year's freestyle reining had $20,000 of added prize money presented by the OKCVB. Zimmerman plans to donate a portion of her $6,280 in winnings to longtime friend of the reining industry, Jenifer Reynolds.
"This is such a special event, and she's just a special person. It's important to recognize the people in our industry going through a hard time and support them, so I just wanted to do this for her," Zimmerman said.
The performance featured Zimmerman in a white jumpsuit with gold decorations, and TJ was decked out with gold tinsel in his mane and tail, along with meticulously placed sparkly stars along his hind end.
Although Zimmerman ending up with TJ as her show horse was a lucky accident, it resulted in several great years, leading up to tonight's freestyle run being one of their last competitions together.
"He fell into my hands, and we've been a pair ever since," Zimmerman said. "This is our last big event together, but he'll be with me forever."
For a schedule, results, news, and more, visit NRHADerby.com.
Photos by NRHA Media and Chelsea Schneider Media