Visokay, Smith and Post Ride to USHJA National Hunter Derby Southwest Regional Championships at Blenheim EquiSports
Three new Standlee/USHJA National Hunter Derby Southwest Regional Champions were named during the Blenheim June Classic II, held June 21-25, in San Juan Capistrano, CA.
Following the same two-round format as a regular National Hunter Derby class, the Regional Championships are offered in three sections – Open, Amateur and Junior. Earning the Open victory on Friday, June 23, were Tasha Visokay and Diablue. On Saturday, the Junior win went to Emma Post on Won Love, and the Amateur title was awarded to Christina Smith for the second year in a row, this time aboard Sunday Styles.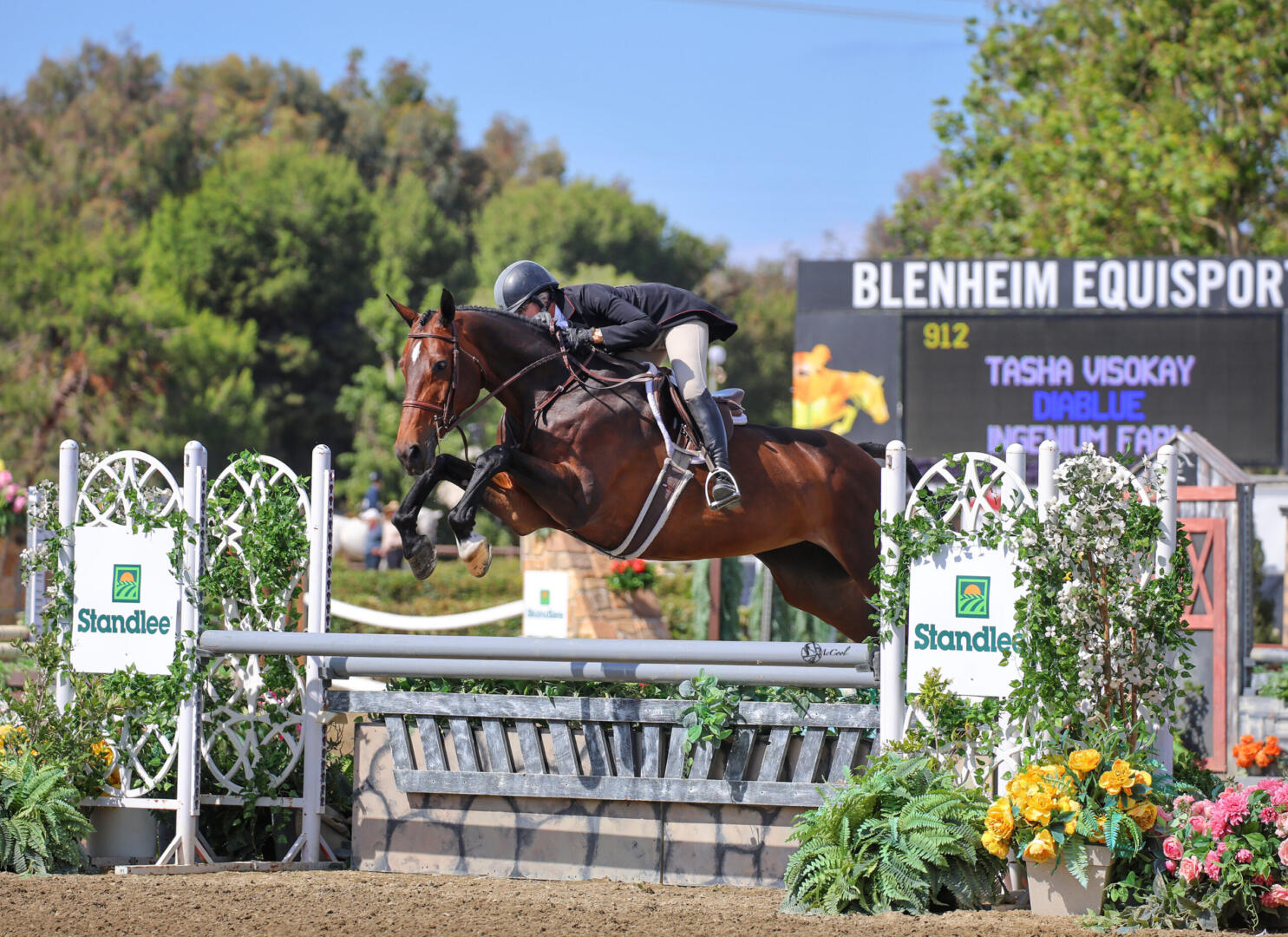 On their way to the win in the $5,000 Standlee/USHJA National Hunter Derby Regional Championship – Open, Visokay and Diablue earned a first-round score of 75, positioning them only in the middle of the field of 18 competitors. A score of 90 in the handy round, however, shot them straight to the top of the leaderboard with an overall score of 165.
"In the second round, I just knew I had to move up," explained Visokay. "I wanted to be really handy. My intention was to go inside the trot jump, but I found kind of a bold first jump, so I just went around. After that, I knew I'd have to do every other inside turn to make up for it. I planned to land all the leads and do a leave out on the last line. There wasn't really a set number, but I walked one, and [Diablue] just followed me everywhere. It just worked out well for us."
Diablue, a 2012 Oldenburg mare, owned in partnership by Visokay's Ingenium Farm and David Artos' Sport Horse Agency, is a personal favorite in Visokay's barn.
"We call her Betty," said Visokay. "She's 11 now, and I've had her for a few years. She came back off a lease and is one of my favorites; she's perfect – no spook, good to ride and a great jump."
With Artos' support, Visokay hopes to enjoy more derby-ring success with the mare in the coming months.
"I'm the only one that shows her right now, so I'm just going to have fun and enjoy her and see if we can keep doing well," concluded Visokay. "It's been a great opportunity. It was a nice course, super fun to ride, and I think the horse show did a great job."
With Visokay and Diablue taking the win in the $5,000 Standlee/USHJA National Hunter Derby Regional Championship – Open, second place with a score of 160 went to Julia Rossow aboard Casalluno, owned by Karle Dickerson. Visokay also finished in third with a score of 159 riding Rockefeller DW for owner Andrea Thurm.
Click here for full results of the $5,000 Standlee/USHJA National Hunter Derby Regional Championship – Open.
Read more:
Visokay, Smith and Post Ride to USHJA National Hunter Derby Southwest Regional Championships at Blenheim EquiSports – Blenheim EquiSports (theplacetojump.com)